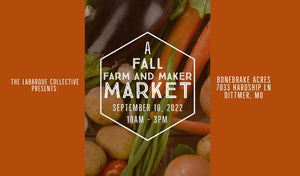 Bonebrake Fall Farm and Maker Market
We are excited to have been invited to be part of this market on Saturday, September 10th. 

Come out and visit with us and see what our local farmers and crafters have to share.

A message from out host:
"Hello, everyone! We are excited to host our Fall Farm and Maker Market on Saturday, September 10, from 10a-3p at Bonebrake Acres, 7033 Hardship Ln, Dittmer!
Here are our confirmed vendors so far. Please be sure to check back as we get closer to Market Day for any changes!
Bolder Bakery: Gluten Free baked goods and treats
Bonebrake Acres
: Shagbark Hickory Syrup (free samples); fresh homegrown produce & herbs, fresh breads and cookies
Sandcrest Haven
: Handcrafted jams, jellies, and preserves, baked goods, farm fresh eggs
VIA Honeybees
: Honey, honey products, etc. They will also have an observation hive on display!
Thank you once again to everyone in the community for making this possible! We appreciate you so much!"
---