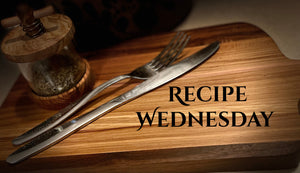 Recipe Wednesday!
Bolognese 


What you will need:
2 tablespoons olive oil
1 medium carrot chopped small - See note in preparation notes.
1 medium celery stalk chopped small - See note in preparation notes.
1 medium yellow onion chopped small - See note in preparation notes.
10 1/2 ozDaisy Oaks Ranch ground beef (70-80%)
10 1/2 oz ground pork (Pork is used in traditional Bolognese. If you do not choose to use pork, double the beef)
½ cup dry red wine – See below for substitutes to red wine.
2 tablespoons tomato paste
2 1/4cups tomato puree (passata) room temperature
2-3 pinches salt
2 dashes pepper
1-2 whole bay leaves
1/3 cup milk (2 % or whole milk)
Pasta- Traditionally served with tagliatelle or fettuccine.
Optional- Garlic. Garlic and more garlic. Fresh shaved Parmesan cheese and garlic bread


 Vegetable note: Chop into small pieces but not so small that the pieces disappear or turn to mush.
Red wine note: One could also use red grape juice in place of wine. Replace at 1:1 adding splash (tablespoon) of white wine vinegar or try balsamic vinegar tasting and adjusting as desired.
Tomato note: As canned peeled and fresh tomatoes release a lot of water, it is not advised to use them for this sauce as it will water down and diminish the sauce flavor. For the best full-flavored sauce, it is advised to use uncooked tomato puree (passata).   
Directions:
Chop the carrot, celery and onion very small.
In a large pot add the olive oil and the chopped vegetables. They should cook covered on low heat until the onion is transparent. 


Turn the heat up to medium and add the ground beef and pork, or all beef. Stir it and break up the meat as it cooks and browns. You want there to be some bits left in the bottom of the pan. 


Deglaze your pan. Turn up the heat to high and let it get hot a moment. When it's good and hot, add the red wine. Bring this to a boil while constantly scraping the bottom of the pan. 


Once this has reduced by about ½, lower the heat to medium. Add the tomato paste and Tomato Puree (remember, not fresh or stewed canned tomatoes), salt, pepper and a whole bay leaf or two. 


Bring the sauce to a boil, then over the next 5 or so minutes, lower the heat to the lowest level. 


Put a lid on it and cook.  This must cook low and slow for three to three and half hours. Careful to not let it boil or it will burn.  While cooking, be sure to give it an occasional stir so nothing burns to bottom of pan. 


For the last 15-20 minutes of cooking, turn up the heat a little and cook on a slow boil, stirring often. 


At this time, prepare your chosen pasta per package instructions. 


After 3 to 3.5 hours of cooking, remove the bay leaf and add the milk and stir. Heat the sauce thoroughly, for a couple of minutes. 


Serve and enjoy.
And then….
Another little note:

Garlic- I may have mentioned that I like garlic. This recipe does not call for any, but you can be sure I add plenty to mine. I start with a teaspoon of garlic powder and add until I'm happy. 

Parmesan Cheese - Wide slices of shaved parm is a winner winner with this dinner, but if you don't have any on hand, the grated will also work. 
Bread- We try to stay away from bread; however, a nice Italian baguette would make for good garlic/garlic cheese bread to make sure you get every last taste of sauce from your plate.
---