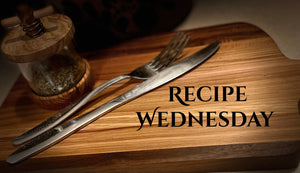 Italian Beef
Recipe Wednesday - Italian Beef featuring Daisy Oaks Ranch beef and herbs.

Italian beef
Chuck roast is typically the type of beef used for making Italian beef, however top sirloin, top round, or bottom round may also be used.
FOR THE BEEF:
• 3 to 4 pound Daisy Oaks Ranch chuck roast sirloin or round roast (if present, trim any excessive amounts of fat)
• Daisy Oaks Ranch Oak smoked salt flakes (Can also use regular Kosher salt)
• 14.5 ounce can beef broth divided (this can be pre made from Daisy Oaks ranch soup bones or shank steaks)
• 8 ounces pepperoncini pepper slices (reserve a half cup of the juice and if you want, have more slices for serving.
• 8 ounces chopped drained giardiniera (mild or spicy)
• 1 large yellow onion
• Provolone cheese slices
• Your favorite hoagie buns
FOR THE SEASONING*:
• 1 tablespoon Daisy Oaks Little Taste of Italy seasoning
• 2 teaspoons granulated sugar (this is optional)
• 1 teaspoon garlic powder (*if using Little Taste of Italy, this would be additional garlic)
• 1 teaspoon onion powder (*if using Little Taste of Italy, this would be additional onion)
• 1/2 teaspoon Daisy Oaks Ranch Oak smoked salt flakes or kosher salt
• ½ teaspoon black pepper
• ¼ teaspoon ground dried thyme dried (*if using Little Taste of Italy, this would be additional thyme)
________________________________________
Instructions
• Take thawed roast from the refrigerator and allow it to come to room temperature. (About 15-20 minutes).
• Once at room temperature, season the beef all over with salt.
• Heat a large skillet or Dutch oven over medium-high until hot. Sear all sides of the roast until golden brown. Note: It will take 8-10 minutes to sear all sides of the meat. You want a crust on the meat so let it sit a moment on each side and refrain from moving it around too much.
• Once all sides have been browned, transfer to the slow cooker.* (see notes about insta pot following recipe.)
• In the pan you browned the roast in, add a little bit of the beef broth and with a wooden spoon, stir around the broth and scrape up the brown bits on the bottom of the pan.
• Cut the onion into thin slices and add to the croc pot.
• Turn on slow cooker to medium. (If your pot does not have medium, put on high) Pour the liquid and any tasty bits into the slow cooker on top of the beef.
• In a mixing bowl, stir together the seasoning ingredients: Daisy Oaks Ranch Little Taste of Italy or a combination of Italian seasoning, granulated sugar, garlic powder, onion powder, salt, black pepper, and thyme. Pour in cooker on top of the beef.
• At this time, add the pepperoncini peppers and juice. If using the giardiniera add it no without adding any of the giardiniera juice.
• Pour in the remaining broth.
• Put the lid on the crockpot and cook on LOW for 8 to 10 hours, or until meat shreds easily with a fork.
• Once it will shred, carefully shred the beef in the pot, then stir it together with the juices. Place the cover back on the pot and let it cook on low for another 30 minutes.
• When it comes time to serve, split the hoagie buns and if you'd like, lightly toast them on a baking sheet in the oven at 350 degrees for 5 to 7 minutes.
• Place a healthy serving of the shredded Italian beef, (making sure you get plenty of that yummy, messy juice on that sammich) on the bun and top with the provolone, and more pepperoncini, and Giardiniera as desired.
• Enjoy!
** Insta Pot:
In a bind for time, I cooked the roast with seasoning, broth, and onion in my instapot. Keep in mind there needs to be 1 and ½ cups liquid.
---