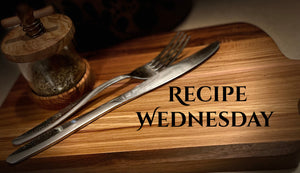 One Pot Veggie and Brat
This is a quick healthy and tasty dinner idea. Try different flavors of Daisy Oaks Ranch cured brats to add a little extra fun to the dish.
 
What you will need:
5 cups red baby potatoes, rinsed and quartered
1 red bell pepper, sliced into medium thick slices
1 yellow bell pepper, sliced into medium thick slices
1 green bell pepper, sliced into medium thick slices
1 zucchini, halved and sliced into chunks
1/2 onion, sliced into medium thick slices
2-3 Diasy Oaks Ranch cured brats sliced into rounds and then cut into halves
3 tablespoons olive oil (you can also use sunflower oil or coconut oil if preferred)
1/4 teaspoon red pepper flakes(optional)
1 teaspoon garlic powder or minced garlic (or both because we like garlic!)
1 tablespoon Daisy Oaks Ranch "Little Taste of Italy" or whatever Italian seasoning you have on hand.
¾ cup low-sodium chicken broth
Salt and fresh cracked pepper
Fresh parsley, chopped
DIRECTIONS: 
I find it easier to prepare all of the ingredients at one time and have them ready to roll when you need them so the first step is to wash and cut all items and place them in bowls. 
In a heavy bottomed pot (I like to use the cast iron or ceramic coated cast iron pots), heat 2 tablespoons chosen oil over medium-high heat. Add the cut baby potatoes to the pot and season lightly with salt and pepper. Fry until golden brown and cooked through, around 8-10 minutes, stirring a few times. Remove potatoes from the pot and set aside. 
Lower the heat to medium high heat and in the same pot, (not washed from cooking potatoes) brown the sliced brats for around 5 minutes in 1.5 tablespoon of chosen oil. Remove the meat from the pot and set aside. * Side note- The cured brats only have to be warmed through and browned as they are cured so essentially already cooked. 
In the same pot (not washed from cooking other items) Add onion and garlic and cook for 1 to 2 minutes with remaining cooking oil. Add the bell peppers and zucchini to the same pot and season with red pepper flakes, Italian seasoning, salt and pepper. Cook for a few minutes, until softened, stirring occasionally.


Add the cooked brats, and potatoes back to the pot and mix everything together. Add chicken broth and cook for 5 minutes more. Adjust seasoning if needed and sprinkle with chopped fresh parsley. Serve and enjoy!
---