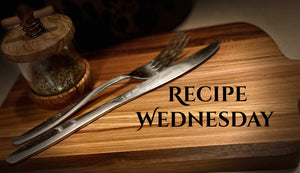 Italian beef Rolls 9/27/2023
It's that time!! ****

This week, there will be two post each featuring a Daisy Oaks Ranch LLC product with one being vegetarian!

First up....


Italian beef Rolls

These were inspired by the favored West Virginia Pepperoni Roll. As I had some Italian beef left over from a West Virginia football Saturday game day, (see recipe posted 9/20/2023) for dinner Sunday, I decided to try some in a roll with success. These create a fluffy, tender roll that is filled with beefy cheesy goodness and make the perfect snack or appetizer!

*For a quick version, you could use Daisy Oaks Ranch Salmai or Daisy Oaks Ranch ground beef.
I also tried using store bought canned crescent rolls in place of the white bread for a flaky crust which was delicious.

Prep Time: 15minutes minutes
Cook Time: 12minutes minutes
Total Time: 27minutes minutes
Servings: 8 – 10 servings

Ingredients:

• 16 oz frozen bread dough, thawed (You could also make the bread dough from scratch)
• 8 oz or 1 cup or so left over shredded Italian Beef
• 4 slices mozzarella cheese, cut into quarters (I also used pepper jack cheese as we like a little heat. Added a quarter slice of each type to each roll)
• 1 tablespoon Daisy Oaks Little Taste of Italy seasoning (Or your favorite Italian seasoning)
• 1 large egg
• splash of water

Instructions:

1. Place oven rack on middle shelf and preheat oven to 400°F. Line a large sheet tray with parchment paper and set aside.

2. Put thawed and prepared bread dough onto a clean work surface. Cut into 8- 10 equal parts.

3. Add a little flour to the work surface and to the rolling pin to keep the dough from sticking. Then use the rolling pin to flatten out the dough to about 4x4 inch diameter. You can also flatten it out with your hands if preferred. I tired to toss it up like they do in the Pizza shops and I definitely need practice as it was absolutely not successful.

4. Add 2 slices of the cut cheese on the dough. (You can add more, however, it may spill out of the roll when cooking. )

5. Place about 1 ounce of beef in the center of each piece of dough (note: you can add more if you like.)

6. Sprinkle with A Little Taste of Italy seasoning (you can add as much or as little as you like).

7. After folding over the two outside edges, tightly roll the dough around the filling, pinching the seams together until secure. Do this for each one and then place on prepared baking sheet seem side down. They should not be touching.

8. Whisk together 1 egg and just a bit of water then brush the rolls lightly with this egg wash.

9. Typical baking time is 10-12 minutes until golden brown. I let mine cool 5 minutes on the tray before serving. Pizza or marinara sauce can be used as a dip if desired.

Buon appetito!
---