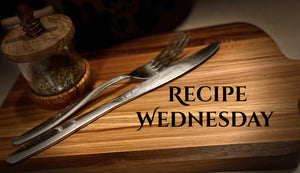 Osso Buco
Osso buco is an Italian dish traditionally made with thick cut veal shanks which are a lean cross-cut from the leg bone beneath the knee and shoulder.
Regular, thick cut beef shanks work just as well but because they are larger, they require a little longer cook time. As the shank is a tougher cut of meat, slow cooking in liquid is essential for the melt-in-your-mouth texture that makes us enjoy osso buco. Low and slow is the secret.
Not for everyone, but my favorite part of this dish is the little scoop of roasted marrow and my preferred way to serve is over either a big scoop of creamy mashed potatoes, creamy risotto or brown rice.
Ingredients
• 2 pounds Daisy Oaks Ranch thick cut beef shanks
• ¼ cup all-purpose flour
• ¼ cup Butter
• 2 cloves crushed garlic
• 1 large chopped onion
• 2 large chopped carrots (I prefer mine cut in thicker chunks)
• ⅔ cup dry white wine (In place of wine, apple cider vinegar can be used)
• ⅔ cup beef stock
• 1 (14.5 ounce) can diced tomatoes
• 1 teaspoon Daisy's Little Taste of Italy (or you can use whatever Italian seasoning you have on hand)
• salt and pepper to taste
Optional topping- Gremolata:
• ½ cup chopped fresh flat leaf parsley
• 1 clove minced garlic
• 2 teaspoons grated lemon zest
Directions
1. Prepare and gather all ingredients.
2. Rinse the shank and pat dry setting on a dry plate.
3. Lightly flour (dust) the shanks. Depending on how much of a crust you want on them, you can also drag them through flour. The "dust" is just enough to get the brown crumbles and not waste.
4. In a large skillet or Dutch oven (the pot used needs to have a fitting lid, as the meal will cook in this pot or you can cover with foil) melt butter over medium to medium-high heat. Add the floured shank and cook until browned on the outside. About 3-5 min. Flip each shank over, dust and repeat.
5. Once both sides have been browned, remove shanks to a bowl and keep warm with a lid or piece of foil over the bowl.
6. To the skillet, add the two cloves of crushed garlic and chopped onion, cook and stir until onion is tender.
7. Return the shanks to the pan and mix in the carrot and wine. Simmer for 10 minutes.
8. Pour in the tomatoes and beef stock, and add seasonings. Little Taste of Italy, salt and pepper.
9. Place lid on skillet and simmer over low heat for 2.5 to 3 hours, basting (spooning liquid from pot on top of) the shanks every 15 minutes or so. Adjust time as needed keeping in mind that the meat should be good and tender, but not falling off the bone.
10. If you choose to cook in the oven, cook for 3.5 to 4 hours at 300 degrees. Bast them every 30 minutes to be sure they do not dry out. Adjust time as needed keeping in mind that the meat should be good and tender, but not falling off the bone.
11. Serve with your choice of sides.
If you choose to do the optional topping, gremolata:
In a small bowl, mix parsley, 1 clove of garlic and lemon zest. Sprinkle the gremolata over the delicious cooked shanks just before serving.
---