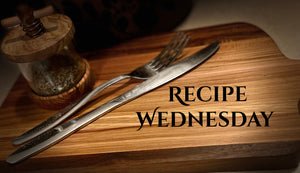 Gently Creamy Veggie Fettuccine 9/27/2023

Gently Creamy Veggie Fettuccine

*Note, for those keeping an eye on calorie counts, skim dairy products may be used, however, if using skim one should also expect to increase the amount of seasoning.


Ingredients:

1 1/2 cup ricotta cheese
1/2 cup 2% or whole milk
4 teaspoons olive oil
1 garlic clove, minced (I am a huge garlic fan and make mine dish with 2- 3 large cloves)
1/2 teaspoon crushed red pepper flakes (adjust heat to your liking)
1 each – medium. Green, sweet red, and sweet yellow pepper, julienned
1 medium red onion cut into thin slices
1 medium zucchini, sliced (if it is larger in diameter cut slices in half)
½ cup mushrooms sliced (my preference is either shitake or baby portabella)
1/2 tablespoon Daisy Oaks Ranch Little Taste of Italy ( As our seasoning is a well rounded robust seasoning, we recommend first time makers to begin with adding 1.5 teaspoon and taste, then add the second 1.5 teaspoons as desired. If using your own Italian seasoning, please start with 2 teaspoons and adjust seasoning to taste)
6 ounces fettuccine. Colorful is fun! ( *If using gluten free Banza Chickpea pasta, note that as it tends to absorb moisture, it may require a bit more sauce than regular flour or semolina pasta. To account for this, I would start by adding an additional ¼ cup milk to the initial cheese mixture and then have some additional on the side if to add if desired)
½ cup grated parmesan cheese for topping

Salt and pepper to individual taste.

To make:
1. In a medium bowl, whisk together ricotta cheese and milk. Set aside.

2. In a medium saucepan, bring 2 quarts water to a boil. (I add a dash of salt and little olive oil to the water)

3. Add 6 oz of your favorite fettuccine and cook per package directions. Once cooked and drained, add milk and ricotta mix to pasta and set aside. (Add lid to help keep warm while cooking the rest of the dish)

4. As water for pasta is coming to boil, heat a medium skillet over medium heat and add olive oil garlic and pepper flakes. Allow garlic and pepper flakes to simmer in the oil for a couple of minutes. Object is to allow the flavors to incorporate with the oil.

5. Add peppers, onion and mushrooms and allow to cook for 4 or 5 minutes, leaving them crisp yet tender.

6. Add zucchini and let it cook with the other vegetables for 2 minutes or until desired tenderness.

7. Mix sauteed veggies with pasta and cheese mix, salt and pepper to taste, and serve with parm on the side.


Enjoy!
---